I offer both foot and facial reflexology sessions. Some clients love their foot reflexology sessions whilst others really enjoy the benefits of a facial rejuvenation session (a facial reflexology based treatment with specific techniques and products to uplift the face.) Both sessions are different experiences and it depends on your preferences and treatment outcomes as to which might be best for you. Read more about facial rejuvenation here.
Foot reflexology sessions are typically one hour and the treatment is always tailored to your individual health and wellbeing needs. Foot reflexology is much more than a foot massage and requires a high level of training to achieve the therapeutic healing benefits possible. As a complementary therapy it identifies blockages or congestion in the body's energy and systems and helps to boost your body's self-healing ability.
Not only does it stimulate the body and nervous system to rebalance, which is the root of good wellbeing, clients are often amazed at the emotional release and relief that the therapy can provide. We are often so stuck on automatic pilot day to day and we don't realise how much we are carrying within us. Reflexology can help us to release what's burdening us mentally, emotionally and physically.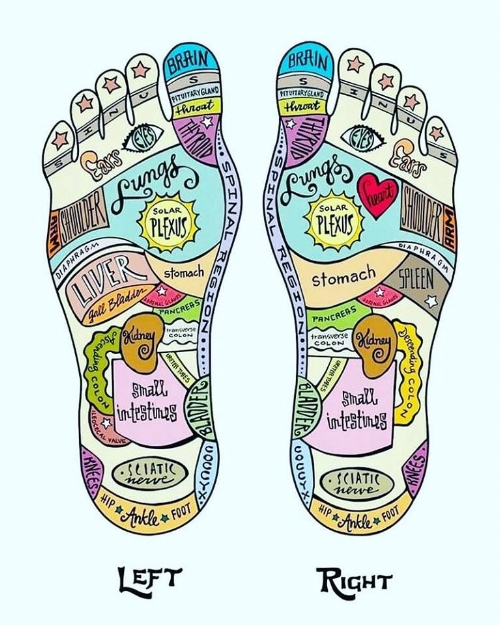 Our feet are a highly accurate reflection of what's going on inside our body, physically and emotionally. As a fully trained and experienced reflexologist, I can tell a lot about your health and even emotional issues or energy congestion from particular signs on your feet.
Through working on specific reflex points and zones on your feet with a number of techniques, a reflexology session can help to balance specific bodily systems, health conditions, areas of pain and imbalance. Feedback to the nervous system via the many nerve endings in the feet encourages self healing, reducing symptoms and pain and assisting with detoxification, lymph flow and circulation.
A reflexology treatment is a wonderfully relaxing, restoring and nurturing experience for the body, mind and spirit. As well as the physical benefits, it can help to boost your emotional resilience and help you in body and mind to cope with stress and illness by calming your stress response and boosting your body's natural pain killers and feel good hormones and supporting better immunity.
In essence, if you are feeling any kind of stress, anxiety, worry, low mood, over thinking, heightened emotions or overwhelm, reflexology can help to calm the fight or flight response, balance your nervous system and guide you back into a state of calm, balance and peace.
Reflexology can help with many issues and conditions including:
Hormone balance, fertility, menstrual cycle issues, PMS
Menopause symptoms and rebalancing
Sleep & insomnia
Stress, anxiety, depression, mood
Digestion, constipation, irritable bowel
Pain management, muscular and joint pain, chronic pain issues, back pain
Recovery from injuries, illnesses and boosting immunity
Improving circulation, lymphatic drainage and natural detoxification
Brain fog, mental busyness & overthinking
Energy and emotional balance
The body and mind need to be in a relaxed state to heal and to function properly!
Reflexology is a very individual treatment, tailored to you as a whole person. Your body's intelligence instinctively knows how to achieve balance and health if we can allow ourselves time and space to do so.
After your initial consultation, I will tailor your treatments to focus on the specific areas that your body and mind may need support with, focusing also on your treatment and wellbeing aims.
Each session will start with a short chat to discuss how you're feeling and what you'd like to focus on. You'll relax on the treatment bed during the session and at the end we'll discuss feedback and any appropriate self care techniques which can support your wellbeing further at home. Self care between sessions often speeds up the healing process and is an important part of recovery as well as improving and maintaining day to day wellbeing and good health.
FOOT REFLEXOLOGY SESSION £45
"I recently had my first session with Katie and had a reflexology session. It was absolutely wonderful. Katie's warm and gentle approach enables me to fully relax and immerse myself in the experience. I felt a lot of energy move around my body during the session. Katie's explanation and the possible interpretations of what she felt really resonated with me. I felt much lighter following the session and the feeling lasted for some days. Really looking forward to another session. Much gratitude Katie"

Lorraine – reflexology and energy healing client