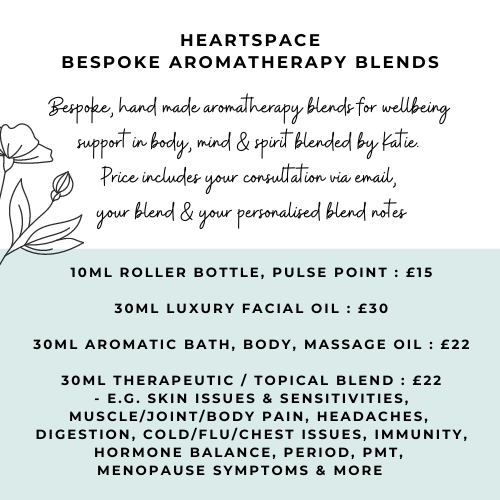 We can harness the power of nature with the healing benefits of pure and natural plant oils. They penetrate our skin and work right down to the cellular level in our bodies, providing us with a natural route to boost our health. You've probably noticed how a particular smell reminds you of a person, place or situation. That's your body's clever sense of smell at work, interacting with your brain and memory. Aromatherapy has the power to influence your mood and shift your energy.
"I've been using my personal blends of essential oils for over two weeks now and the results have been wonderful. I feel very calm and relaxed ready for a good night's sleep and my anxiety has been lowered by adapting these oils into my daily routine! I've also ordered bespoke blends for my two daughters, which Katie has made every effort to ensure they were safe and perfect for them! Thank you, can definitely recommend" Carly, aromatherapy client
Why use a bespoke aromatherapy blend?
There's something really special about having your own unique blend made just for you!
I use my knowledge and experience to create a blend using the most suitable oils to best meet your wellbeing aims. This is really important to get the results you're looking for. Each oil will play a key and active role in your blend and you'll receive blend notes explaining your blend's top, mid and base notes, it's properties and safe usage.
Aromatherapy is completely personal to you and your bespoke blends can be used in the ways that you find most effective. Whether that's in your morning facial routine with an invigorating and refreshing facial oil blend, a balancing and grounding pulse point roller blend to use with meditation, a diffuser blend in your office to clear your mind and keep you focused at work or a night time foot balm to soothe your feet and relax your body and mind before sleep.
If you already love using essential oils but would like some expert help with a specific issue, you are on medication, have chronic or multiple health issues, allergies or sensitivities and you aren't sure which oils are safe or appropriate for you, then a bespoke blend can help.
All natural, pure, plant based oils. No artificial ingredients, perfumes or preservatives. Cruelty free. Vegan.
Your consultation
I carry out a short online consultation with you to find out what your wellbeing priorities and aims are and then I'll recommend oil blends that I feel will best suit you. This is a crucial process to ensure you use oils that are suitable for you that won't interfere with any existing conditions, medications or allergies.